Solutions for Digital Risk Monitoring
Receive actionable risk intelligence about any significant changes to your security posture.
In-depth risk evaluation of the entire enterprise.
Early-warning security notifications.
Automated daily security posture reports.
Data is displayed on a convenient dashboard.
Risk tm
Time is our most valuable resource in cybersecurity. Leverage Risktm to automate your digital risk management and receive insight about any significant changes to your security posture due to Dark Web, data breach, compromised credentials, network infections and other security incidents.
Measure risk to control your enterprise security posture
Accurate
In-depth risk evaluation throughout the entire enterprise ecosystem.
Scalable
Monitor digital footprints of any size on a massive scale.
Effective
Proactively enabling strategic actions to improve security.
Capabilities of Digital Threat Monitoring
Measure Risk
Your daily security score is rated based upon a summary of all risks for your monitored domains, IPs, networks, vulnerabilities, and cloud services. Actionable intelligence with immediate remediation is key to achieving a high security score.
Unparalleled risk management
Actionable intelligence that makes a difference
Risk Assessment
Refine and enrich datapoints to understand where weaknesses and vulnerabilities in your digital assets are. Changes and updates are sent through notifications via reports or e-mail as new data is discovered.
Risk Categories
Identify external threats based upon high-quality intelligence aggregated from over 20,000 public and closed sources.
Risk vectors
Account Takeover
Botnet infections
Business E-mail Compromise
Cyberespionage
Brand Reputation Abuse
Dark Web Activity
Domain Squatting
Data Breaches
Digital Certificates
Exposed Network Services
Active Directory Account Compromises
Backdoors
Incorrect Network Segmentation
Security Anomalies
Lateral Movement
Malicious Traffic
Vulnerable Software
Misconfiguration Errors
Unpatched Services
Abandoned EC2 instances
Exposed Databases
Compromised Credentials
Sensitive Data Identification
Misconfigured services
Malicious code
Public S3 buckets with sensitive data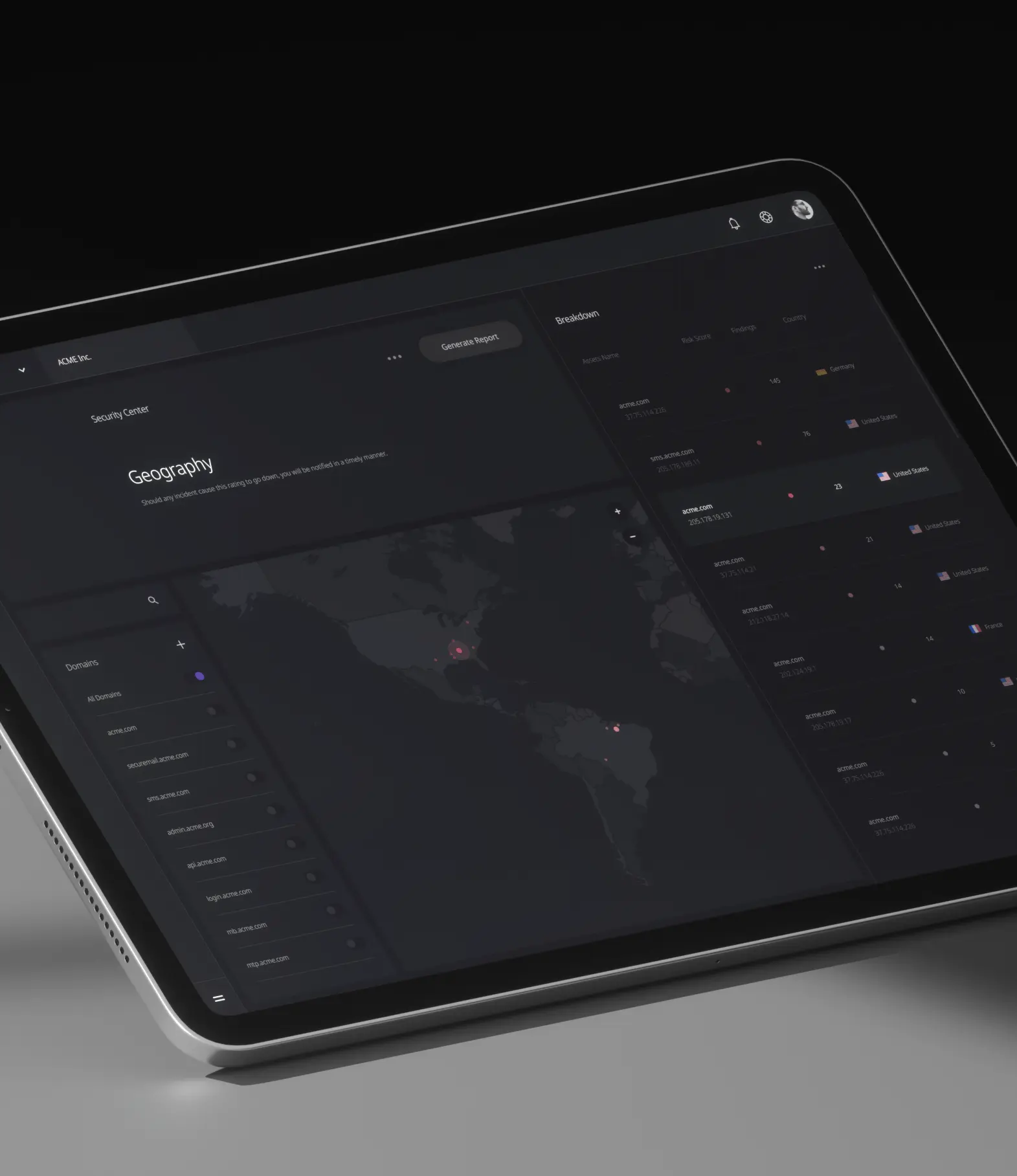 Global Visibility
Our geo-location capability delivers contextual information identifying low, medium and high-risk areas for managing your infrastructure, network resources and other company assets.
Newsletter
Keep up to date with the latest cybersecurity news and developments.
By subscribing, I understand and agree that my personal data will be collected and processed according to the Privacy and Cookies Policy
Cloud Architecture
445 S. Figueroa Street
Los Angeles, CA 90071
Google Maps
Contact us by filling out
the form
.
Try Resecurity products today with a
free trial