Endpoint Protection Platform
Advanced threat detection and monitoring to streamline and secure your cybersecurity environment.
Replace 7 protective technologies by combining them into a single platform.
Fully scalable to monitor any digital footprint of any size.
Generate analysis reports that provide actionable strategic feedback.
Take proactive actions to continuously improve your security strategy.
Endpoint Security Platform
Endpoint Protection
Radical growth in online technologies has led to an increased attack surface, leading to a myriad of unprecedented new risks, threats, and vulnerabilities.
Maximizing protection & return on investment
Replace 7 Tools with 1
Our Endpoint Protection Platform (EPP) is an extendable and highly scalable solution with its own ecosystem providing additional next gen services on top of a traditional security stack.
Cost-Effective Solution
Yesterday's cybersecurity tools protect against yesterday's problems, increasing a shield's layer count can add complexity and cost without closing all the gaps in your security perimeter.
Platform-as-a-Service (PaaS)
Our platform includes a range of integrated services. Digital forensics & incident response (DFIR), cyber threat intelligence (CTI), digital risk monitoring (DRM), cloud security & additional app developments.
Key Features of EPP Platform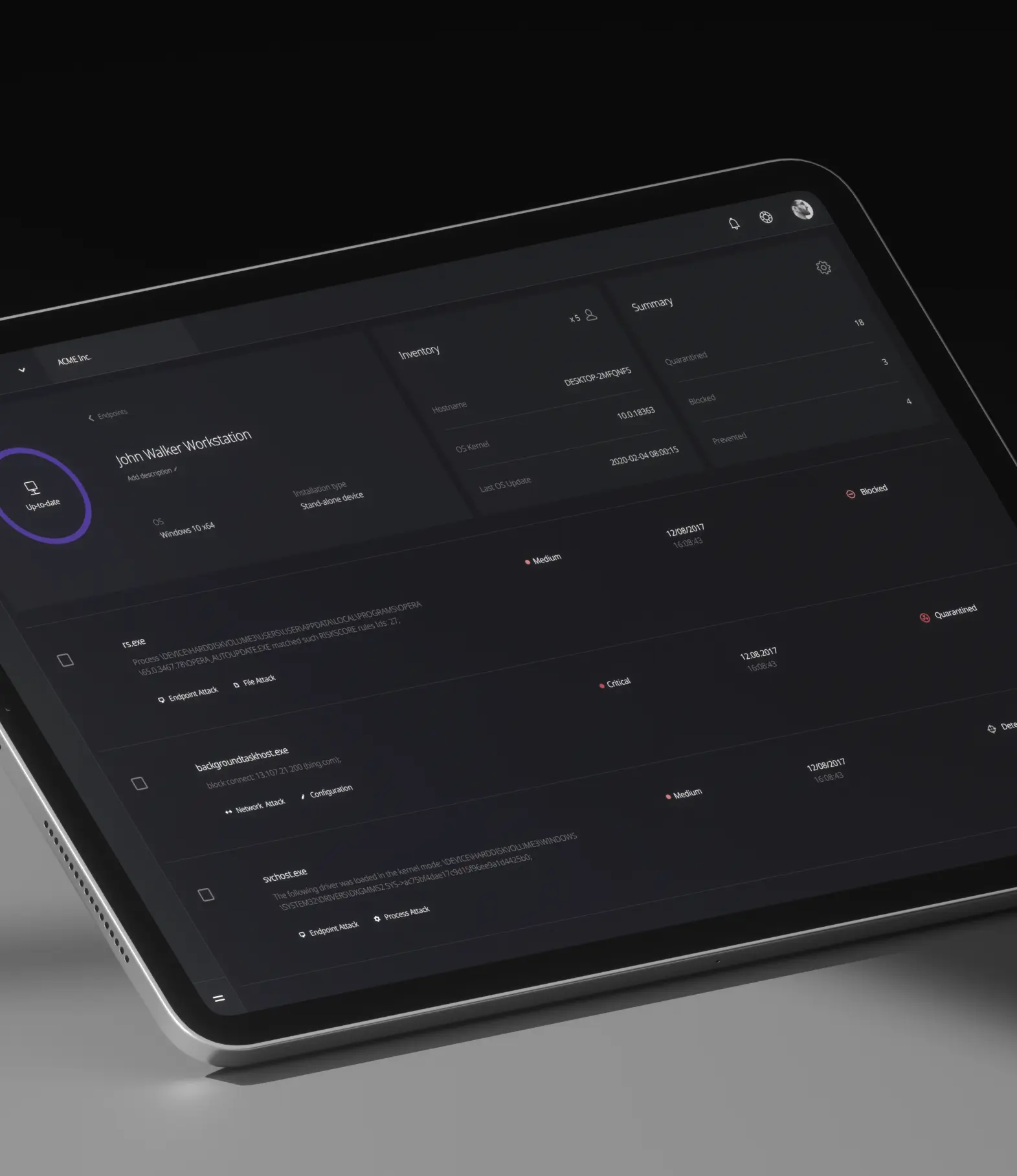 The challenge for the enterprise is to continually defend against advanced attacks designed to find and exploit unknown vulnerabilities.
Early detection & warnings
Intuitive controls
Incident analysis
Centralized interface
Automatic analysis
Cryptographically secure
Advanced Protection Stack
Resecurity provides a combination of next-generation protection technologies consolidated into a single platform.

We enable pre-execution analysis, behavior analytics, memory protection, machine learning and intelligence-driven components powered by data science.

Comprehensive coverage of the adversary techniques within the MITRE ATT&CK® Attack Matrix for Microsoft Windows, Linux and Apple Mac OS.
Protects your enterprise from
Advanced Persistent Threats
Targeted Network Intrusions
Malicious Code
Ransomware
Insider Threats
Zero-Day Exploits Activity
Memory-Focused Attacks
Endpoint protection
software benefits
An intelligence-based endpoint protection platform able to detect the most advanced threats to prevent critical data breaches. Our solution is fully scalable and works with any network environment. Real-time threat intelligence for all mobile, web and cloud attack surfaces.
Understand what's happening across all endpoints using real-time reports and threat alerts. Detailed alerts and notifications provide a comprehensive overview of all endpoint, and device statuses to detect suspicious activity.

Our EPP solution can detect advanced previously unknown threats which include stealth attacks. By detecting such threats, we can stop ransomware, malware, Zero-Day vulnerabilities and millions of other threats targeting your organization.

Stop malicious attacks that can destroy data and cost the organization millions in disaster recovery, investigations, remediation, and legal fees. Quarantine suspicious files and email attachments to stop attacks from the start.

By leveraging our artificial intelligence, you can automatically detect and stop complex cyber-attacks that may otherwise go unnoticed. Our proprietary AI helps prevent very costly, and damaging situations for the enterprise.

By generating analysis reports that provide actionable strategic feedback, you can trace, resolve, and prevent future cyber-attacks on your enterprise. Maximum visibility across all endpoints enforces security against advanced threats.

By consolidating multiple cyber security tools into 1 user friend user interface, our EPP solution simplifies the way administrators and IT staff manage and oversee endpoint security. Administrators can access their management console from the operating system and device of their choice.
Comprehensive enterprise protection
Resecurity extends and reinforces the security perimeter covering all critical dimensions of modern enterprises.
Assets
Users
Apps
Network
Services
Devices
IoTs
Clouds
Supply Chain
3rd Party Risk
Newsletter
Keep up to date with the latest cybersecurity news and developments.
By subscribing, I understand and agree that my personal data will be collected and processed according to the Privacy and Cookies Policy
Cloud Architecture
445 S. Figueroa Street
Los Angeles, CA 90071
Google Maps
Contact us by filling out
the form
.
Try Resecurity products today with a
free trial