The Anti-Fraud Summit 2022, the first major specialized event dedicated to financial fraud detection and prevention technologies took place in Riyadh.
Marking the annual International Fraud Awareness Week, the Saudi Monetary Authority (SAMA) in collaboration with Kearney, a global business management consulting company with offices in more than 40 countries worldwide, united major financial institutions in the region, business and technology leaders to raise awareness over minimizing the negative impact of fraud across the Kingdom.
Similar events took place in other countries supported by the Association of Certified Fraud Examiners (ACFE) promoting anti-fraud awareness and education.
The event top speakers included Brett Johnson, referred to by the United States Secret Service as "The Original Internet Godfather" and Britain's biggest ex-fraudster Tony Sales, the author of the book "How I Stole £30 million and Got Away With It" – sharing the experience to stay ahead of the ever evolving techniques deployed fraudsters and how financial institutions may accelerate defensive measures.
The event also included a panel discussion with top information security, fraud prevention and risk management giants including Axon Technologies, MOZN, Fidzai, Saudi Cybersecurity Company (CyberKSA) and Resecurity from the United States.
Fraud has become more of a problematic issue than it has ever been. Billions of dollars get lost every year, transferring from the grasp of hardworking individuals into the pockets of fraudsters. Credit card fraud and banking fraud over the next decade will cost the industry a collective $408.50 billion in losses globally, according to experts.
By 2030, when the total digital payments volume is expected to hit a whopping $79.14 trillion, the industry will lose an estimated $49.32 billion to fraud. The US Department of Justice (USDOJ) states that over $2 trillion in illegally gained funds are reprocessed in the global economy as being legit, opening the doors for money laundering activity and shadow economy elements.
According to Resecurity (California, USA), cybersecurity provider providing fraud prevention and money laundering intelligence solutions for the leading financial institutions in Saudi Arabia and Fortune 500 companies, today's cybercriminals use advanced tactics and tools to steal money from innocent people. One of the most trending vectors – distribution of mobile malware enabling the bad actor to intercept 2FA/OTP (one-time-password) code, and credentials to online-banking accounts. Other vectors include identify theft, social engineering and phishing.
To close that gap Resecurity offers a comprehensive solution combining device fingerprinting, fraud & risk intelligence feeds, SDK and AI-based engine to detect suspicious activity allowing to recognize when the fraudster is attempting to access victim's account.
Notably, some of the early signs of possible account compromise could be detected prior to the malicious activity – based on preemptive threat intelligence and Dark Web monitoring, as the major part of compromised payment data of consumers is exposed in underground marketplaces.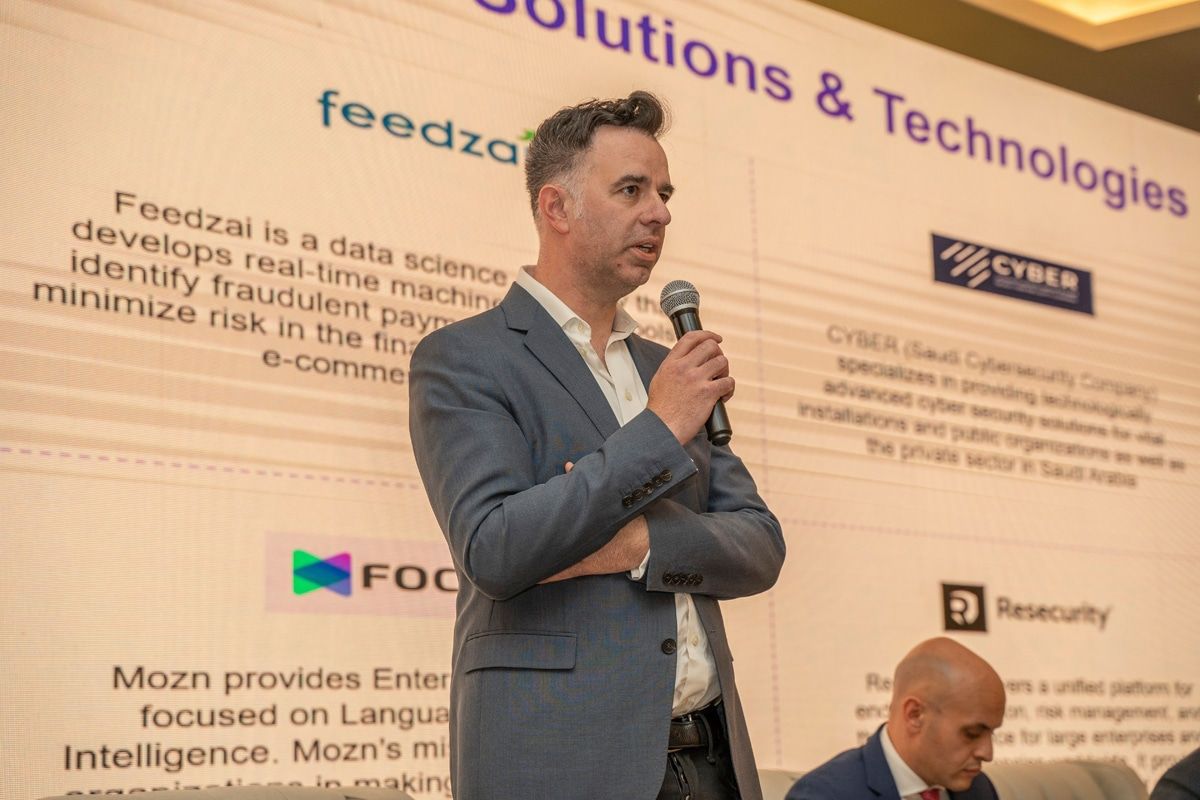 "Around the world, cybercriminals are getting more creative, devising more innovative means of fraud. Our goal is to apply the best technology powered by Artificial Intelligence and Data Science to stop it, and to deliver proper tools to investigate shadow economy and money laundering activity" – said Christian Lees, Chief Technology Officer of Resecurity. "This year we had several successful cases of stolen assets recovery, as well as proactive collaboration with international law enforcement to target criminals and organized crime groups" – he added.
Abdulrahman Alkenani, CEO of Saudi Cybersecurity Company (CyberKSA), seconded Mr. Lees from Resecurity, with remarks about the power of technology to combat fraud: "Financial institutions should implement effective fraud prevention solutions leveraging behavioral and data-driven mechanisms, replacing an "old-school" statistical algorithm which may be manipulated and bypassed by experienced fraudsters on practice".
The summit allowed to connect financial industry leaders with the brightest experts to exchange valuable knowledge about the best practices, complex cases and gain experience in combating fraud – which was highlighted by the expression of gratitude to this event, from all delegates towards SAMA.
The Kingdom of Saudi Arabia, known to be a hub of some of the world's brightest investors, is an obvious target for cybercriminals. Last month, financial industry regulator SAMA has released an updated "Counter-Fraud Framework" providing a comprehensive set of compliance requirements for all financial institutions covering fraud detection and prevention controls, due diligence procedures, ongoing intelligence monitoring, financial crimes investigations, training and awareness for employees and banks' customers.